Tokyo Anime Award Festival 2015 'Animation of the Year' Nominees Announced
posted on 2015-02-18 14:45 EST
Knights of Sidonia, Love Live!, Yōkai Watch, Ping Pong the Animation, Frozen, The Tale of
Princess Kaguya, Gundam Unicorn, Stand By Me Doraemon nominated
The Tokyo Anime Award Festival announced the nominees for its "Animation of the Year" award on Tuesday. The nominees include:
Theatrical Animation Division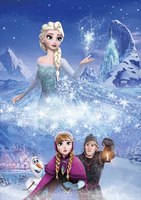 Frozen
Television Animation Division
Knights of Sidonia
To be eligible, the works had to have been screened in theaters or broadcast on television in Japan between November 1, 2013 and October 31, 2014. The nominees were selected by 100 judges, including anime producers and members of The Association of Japanese Animations.